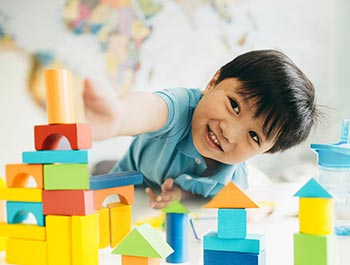 About Us
Junior Champs is the Best Play School & Daycare Chain who has established a milestone in area of child education in short span of time.Junior Champs is one of the best, safe & trusted Pre School and Daycare Chain in India. Junior champs is a unique and innovative pre-school under the banner of Junior Champs Educare Pvt Ltd, based out of Ghaziabad, Uttar Pradesh, committed to deliver high quality of education programs that equip students with a solid foundation in integrated curriculum with technological savvy, methods, materials, and interactions needed to create the environment that leads to enriched learning opportunities for every child.
Junior Champs was established with a vision to set new standard in Pre Nursery Education and Child Care in all over India. Junior Champs Preschool has developed as one of the most valued names in the education industry.At Junior Champs we believe that every child has his/her own velocity to learn with fun and they can improve with love and affection. We teach children in UK concepts for developing their skills by educating them with fun.
We offer best of child daycare facilities and Play school education services which include-
- Play Groups for Kids of age 18 months to 2 Years,
- Preschool Nursery for Kids of age 2 to 3 years,
- Nursery classes for Kids of age 3 to 4 years,
- K.G. classes for Kids of age 4 to 5 years,
- Activities Centre are segmented between 3 years till 14 years age groups.
- Day Care-
Junior Champs provides excellent daycare facilities to children. Rooms are air-conditioned and spacious with each child having separate bedding. We also provide meal facility as per demand of parents.Both indoor and outdoor spaces provide a range of opportunities for individual and a platform to share experiences.
The play area is especially designed with each age group in mind and includes sandpits, cubbies,chalk boards, swings, slides, splash pool etc.Our Day-care curriculum is designed to allow children to explore all with their natural boundless energy.
Facilities:
• Live CCTV surrviellance on Mobile Phone (Android/IOS) for parents.
• Unique & International Junior Champs Curriculum which is based on activities & themes.
• All Experienced Female Staff & Techers.
• Smart & Digital Learning System
• Own Mobile Applications & ERP Student Information System
• Fully A/c Campus.
• A/c Transport Facility.
• Best Child Teacher Ratio for best possible care and attention.
• Wide range of Activities - Drawing, Painting,Singing, Dancing, Games, Computers.
• Plays, Puppet Shows, Multimedia Lessons.
• Picnics, Outings and Events for overall growth of children.
• Art and Craft Exhibition, Sports Day and Annual Day Celebrations
• Parenting Sessions, Regular Medical Checkups.
Dramatically re-engineer value added systems via mission
Our unique learning environment sparks physical growth
Discovery while our creative curriculum which combines